Family Dentistry – The Basic Information
A lot of people believe that general dentistry and family dentistry are interchangeable terms. And although not entirely true, the basics are pretty similar. 
Dentists practicing general dentistry are termed "general dentists" and the ones practicing family dentistry are "family dentists". Both types of dentists have a similar educational background – undergraduate followed by dental school. Both have to pass their licensing exams to practice in a dental setup.
The main difference lies in the kinds of patients they see. General dentists might limit their patients to a particular age gap. On the other hand, a family dentist oversees the oral care and well-being of people of all ages. And yes, it includes children and senior citizens.
Additionally, family dentists undergo additional training to become fit to provide dental care to children. Since little kids have different dental needs than adults, a family dentist is usually trains to deal with all of them.
What Are The Benefits Of Family Dentistry?
Having a family dentist as your oral health care practitioner has numerous benefits. Some of them are as follows – 
Family Dental Offices Are Convenient
In a nutshell, a family dental office, like Anoka Dental, is like a "one-stop-shop" for your entire family's dental needs. You won't have to waste excessive time and money shuttling from one dental office to another. Either it's you, a little child, a teenager, or a senior adult, you can bring them all into one establishment to get take care of.
Furthermore, if the schedule allows, you can book multiple appointments in a single day. In short, extremely convenient.
Family Dentists Help Eliminate Dental Anxiety
It's not just children who experience dental anxiety and dental phobia – a lot of adults have the issue as well. Both these issues can result in either a delay or complete avoidance of getting dental treatment. And this is precisely where a family dentist comes in.
If someone in your family fears the dentist, it helps immensely when the entire family visits the same dentist together. It allows the person to feel comfortable and relaxed with familiar faces around them. Multiple visits together ease their anxiety and help them gain confidence.
What seals the deal is that a child can continue visiting the same dentist at Anoka Dental as they transition into an adult – making things much easier for them.
Versatile, Regular, and Consistent Services
Since a family dentist deal's with dental care of all ages, you can find a wide range of treatments available at their office. From preventive care like sealants to restorative options like implants and dentures, there is something for everyone.
When you regularly visit the same dentist at Anoka Dental, you can trust that the treatments they offer will be reliable. Additionally, with a family dentist, you will be confident about visiting them and won't skip an appointment.
Family Dentists Are Aware Of The Family Dental History
When a family continues to visit the same family dentist, over time, the latter becomes aware of the family's dental history. They have all of it on record, which means they can make informed decisions based on a person's dental past. This includes the diseases they've had, allergies, sensitivities, and treatments.
This also helps your family dentist at Anoka Dental look out for any new symptoms since your last visit. Genetic issues, particularly orthodontic ones, play an important role in dental history.
What Are The Major Types Of Dental Implants In The US?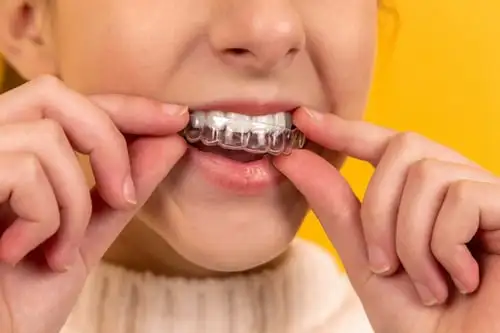 Dental implants are the quintessential replacements for missing teeth. Owing to their placement and their structure, implants look and feel just like your natural teeth. Furthermore, with their amazing success rate, they are every dentist's and patient's go-to restoration.
There are three major types of dental implants in the US. These are – 
Endosteal Implants
These are the most common and the most stable of all the implants. The implant base, known as "post", is surgically embed in to the jaw bone and allowed to fuse with it over time. The fusion, known as "osseointegration" is responsible for the implant's stability and strength.
The dentist performs surgery under anesthesia and places the tooth replacement after 6-12 weeks.
Subperiosteal Implants
These implants are placed over the jaw bone and below the gum tissue. Subperiosteal implants are hardly ever used because they aren't as long-lasting or stable as endosteal implants.
Mini Dental Implants
As the name suggests, mini dental implants are smaller in size than your regular implants. Traditional implants measure about 3 to 6 inches in diameter, while mini implants stand at almost half.
Your dentist at Anoka Dental will guide you on which type of dental implant will work for you.
What Are The Risk Factors Associated With Dental Implants?
Although implants are pretty successful – 98% of implant procedures last a lifetime, there are a few risks associated with the treatment.
Some of the risks include – 
Infections at the implant site

Damage to the nerves, causing a tingling sensation, numbness, or pain

Damage to the blood vessels, soft tissues, or other teeth

Sinus issues when an implant is placed in the upper jaw
Not practicing proper oral hygiene increases your chance of developing issues with your implant, which could ultimately lead to implant failure.
How Do I Choose The Right Dentist For Dental Implants?
The dentist you're visiting must have extensive experience in working with dental implants. At Anoka Dental, Doctors Capp and DeKrey are well-experienced and skilled professionals with numerous years under their belts.
Not only are they committed to a high standard of dental care but they also levy significant importance on patient comfort. You can check out what patients in the past have had to say about our dentists here.
But if we say so ourselves, at Anoka Dental, you and your family are in fantastic hands. Give us a call at (763) 421-4002 and come on down to our office to give you the Anoka treatment!
Our address:
Anoka Dental
12 Bridge Square, #106
Anoka, Minnesota, 55303,
United States
Phone no: (763) 421-4002
Find us at:
Visit our GMB website: