Cosmetic Dentistry, Anoka MN
What Is Cosmetic Dentistry?
Cosmetic dentistry is a practice of professional oral care dealing with fixing a person's smile. The dental work included in cosmetic dentistry enhances the appearance, and sometimes functionality, of the patient's teeth, gums, and bite.
Although most cosmetic dentistry procedures are elective, some also provide restorative benefits.
Common Cosmetic Dentistry Procedures
Anoka Dental offers various cosmetic dentistry procedures in their dental office. You can take advantage of the following treatments –
One of the most popularly requested treatments in a dental chair, teeth whitening is the simplest way to make your teeth look good. Your dentist at Anoka Dental will bleach your teeth using a bleaching agent which can be either hydrogen peroxide or carbamide peroxide.
The bleaching agent makes your teeth a couple of shades lighter. Photographs are taken before and after the treatment to showcase the difference. The chemicals used in a dental office are pretty strong and require that the gums be protected. This is why the treatment is performed safest by a qualified dentist.
Porcelain crowns are dental crowns made out of porcelain. These are tooth-shaped covers placed on damaged teeth and are used to restore the look, structure, and function. Porcelain crowns are shade-matched to the natural teeth. This is why the procedure is a part of cosmetic dentistry.
Dental crowns are advised by your dentist at Anoka dental under the following scenarios – 
A dental bridge is a restorative dental unit used to replace multiple missing teeth in a jaw. The unit consists of false tooth/teeth bridged on both ends by dental crowns. The dental crowns are attached to the teeth adjacent to the missing space. This helps provide stability to the dental bridge.
The teeth which receive the dental crown are shaved down to make space for it. The crowns are secured into place with dental cement. The artificial teeth fill in the gaps in the jaw, replacing the missing teeth. The entire unit is also shade-matched to natural teeth, thereby appearing more realistic and hence, cosmetic.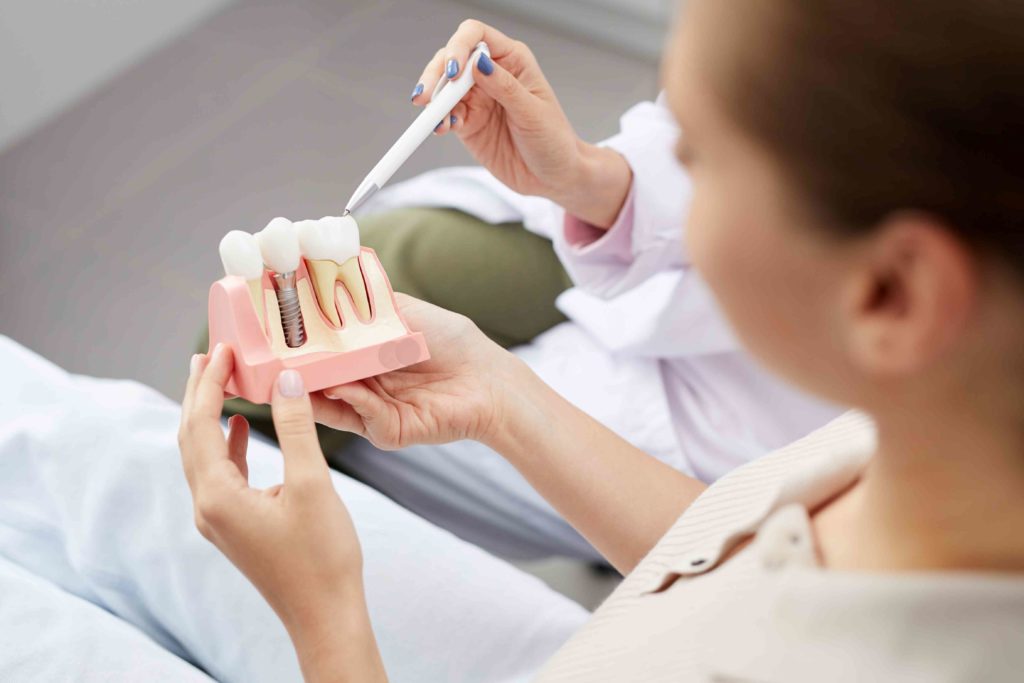 When it comes to replacing missing teeth, dental implants are the best option. Labeled as the "gold standard" by dental experts, implants have an outstanding 98% success rate.
The restorative unit replaces not just the look but also the feel of natural teeth. This is because the implant base, also known as post, is surgically placed in the jaw bone. This mirrors the root of the natural tooth. And once the fusion has taken place between the jaw bone and the titanium post, the unit is incredibly stable and hence, long-lasting.
However, before you can receive an implant, your dentist at Anoka Dental will perform a thorough physical and digital exam of your oral cavity. They will also ask questions regarding your medical and previous dental health. This will help to determine whether you are a good candidate for the treatment.
The implant post is topped off with the replacement unit. This can be a crown, a dental bridge, or a denture.
A lot of cosmetic dentistry procedures aren't covered by dental insurance. This means that you will, in all likelihood, be covering your costs out of your pocket. However, don't let that get you down.
At Anoka Dental, we are more than happy to sit down and discuss your payment options with you. To know more about the costs of various cosmetic dentistry procedures in our office, get in touch with us.
Benefits Of Cosmetic Dentistry
There are many benefits of cosmetic dentistry, some of which are –
Cosmetic Dentistry At Anoka Dental
As we've mentioned earlier, you can find many cosmetic dentistry procedures at Anoka Dental. Dr. Rich Capp and Dr. Lee DeKrey have several years of experience in the cosmetic dentistry industry. With their expertise, combined with our state-of-the-art infrastructure, you are in extremely capable hands.
Your dentist at Anoka Dental will sit down and discuss your dental issues with you, outlining various treatment options and what you can expect. We also take great care of ensuring that our patients are comfortable before, during, and after their dental visits. Additionally, we are more than happy to clarify any questions or doubts you might have regarding the procedures advised to you.
To schedule an appointment with your oral health experts, give us a call at (763) 421-4002.