What Is Family Dentistry?
If you've ever scoped the internet or have had a conversation about dentistry, you've probably heard the term "family dentistry". But what exactly does that mean?
It means exactly as it sounds – dentistry, but for your entire family. And yes, it includes dentistry for children, adults, as well as for seniors.
Who Practices Family Dentistry?
We're all aware of general dentists. They are the ones who have studied undergrad, gone to dental school, and graduated. After successfully achieving their license, they either join a pre-existing establishment or start one of their own.
Family dentists are similar to general dentists in terms of the education they receive. The major difference? The patients they cater to.
A general dentist might restrict their visiting patients to a specific age bar. On the other hand, in family dentistry, family dentists take care of patients of all ages.
A family dentist is also trained and qualified to deal with the issues of all the stages in one's life.
Long story short, a family dental establishment is a "one-stop-shop" for your family's dental needs.
What Are The Most Common Family Dental Care Services?
A lot of family dentists focus heavily on preventative and rehabilitative treatments and routine oral care. Additionally, some may also offer services such as orthodontics, cosmetic dentistry, oral surgeries, etc.
Routine Visits
Regular trips to the family dentist ensure that your oral health is taken care of. It gives the family dentist at Anoka Dental a chance to monitor your oral health and hygiene.
Six Month Cleanings
Professional teeth cleaning is one of the sure-shot ways at preventing gum disease from occurring and spreading. This is done either by the family dentist or by a dental hygienist.
More than 70% of Americans suffer from gum disease. On proliferation, this leads to further issues like cavities, periodontitis, bone loss, and eventually, tooth loss.
Cavity Fillings
If your family dentist notices cavities in your teeth during the exam, they will proceed to take care of them. This is done by removing the decayed tissue to prevent the further spread of the infection. Furthermore, the space left behind on the tooth surface is filled with either amalgam or composite.
While it might seem like children are more prone to cavities than adults, the latter face the issue rather equally.
Dental Sealants and Fluoride Treatments
Sealants and fluoride placements are popular treatments among little kids. This is because little kids tend to get cavities a lot frequently. Fluoride and sealant applications help prevent their little teeth from decaying super fast.
Oral Surgeries
Sometimes, if a tooth has decayed beyond salvation, the family dentist recommends getting it extracted, i.e. removed. This procedure is performed under local anesthesia and the patient feels no pain throughout the surgery.
Family dentists might also perform gum flap surgeries to deal with progressive gum disease.
Tooth Replacement Options
One of the most common issues plaguing senior citizens is that of tooth loss. While young and middle-aged adults also experience tooth loss, the average is much worse amongst older people.
Your family dentist at Anoka Dental can offer the proper dental care for this debilitating issue.
Dental bridges or partial dentures can be used to replace one or several multiple missing teeth.
Full dentures are advised to edentulous patients, i.e. have no teeth.
Anoka Dental also offers dental implants – which are the go-to option for tooth replacement. In contrast to bridges and dentures, dental implants are permanent. Additionally, they also prevent bone loss by constantly stimulating the jaw bone, ticking off all the boxes of aesthetic, function, and preservation.
Oral Appliances
Family dentistry practices also provide oral appliances for various reasons –
Some family dentists might provide orthodontic treatments to help fix misaligned teeth.
Oral appliances are important for patients who have habits that hamper the natural position of their teeth. These include mouth-breathing, thumb-sucking, tongue-thrusting, etc.
Patients who have a habit of grinding or clenching their teeth can also be given night guards to prevent damage to their teeth and jaw.
How Is Family Dentistry Important For Dentistry For Children?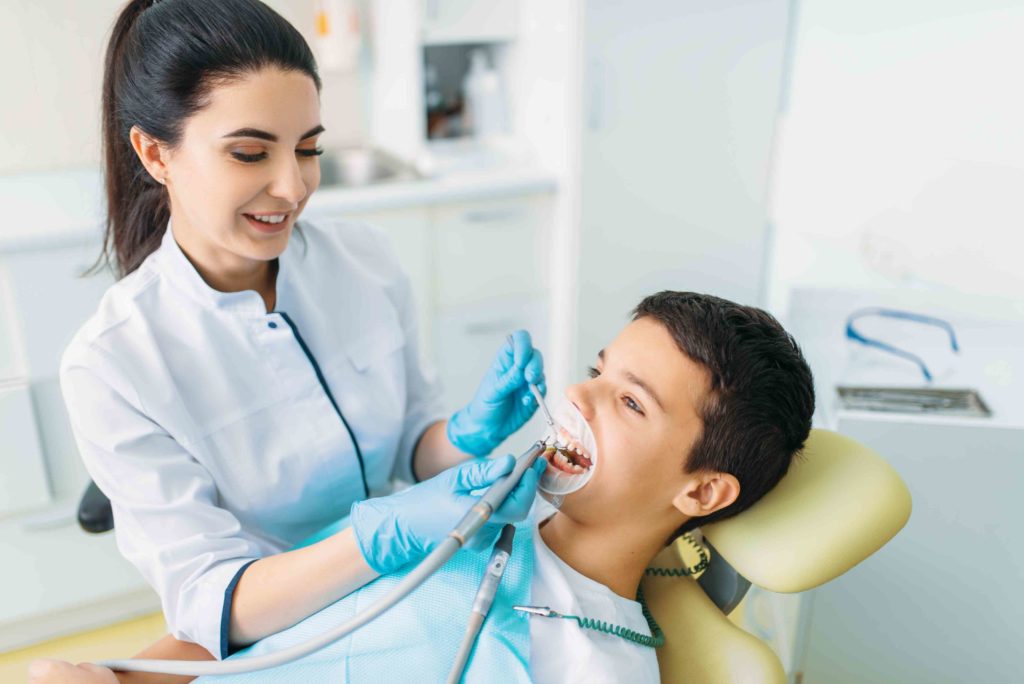 Family dentists are experts at handling and providing dental care to little kids. Because their practice involves working with children, they also have an equally competent staff.
Family dental establishments understand a child's psyche – they make sure that they do everything on their part to ensure the child's comfort. From lively interior décor to a play area to keep kids distracted, to the way the dentist deals with them – everything is done to alleviate the child's anxiety.
Additionally, when a child visits the same dentist as their family does, it not only relaxes them but also imparts the importance of dental care.
In terms of treatments, family dentistry necessitates updation with the entire family history. This is of particular importance in dentistry for children. The family dentist knows what signs to look out for in children and can provide preventive treatment before any hereditary issues set in. For example – parents who have or had misaligned teeth can pass this trait onto their kids. The family dentist can opt for preventative therapies to make sure the misalignment doesn't set in.
Furthermore, as a child transitions to an adult, they can continue visiting the same family dentist as they did. This also adds a sense of reliability to the whole experience.
Does Anoka Dental Provide Family Dental Care?
Doctors Capp and DeKrey are the dental experts at Anoka Dental. With a combined over 35 years of experience, they bring you not only their knowledge but also their technical know-how.
Their skills combined with Anoka Dental's high standard of dental care and top-of-the-line equipment, you're in fantastic hands with us!
Does Anoka Dental Cater To Dentistry For Children?
If we had to answer in one word, it would be – absolutely! Aside from providing dental treatments, the dentists at Anoka Dental also focus on imparting dental education to kids and adults alike. Practicing good oral hygiene goes a long way in keeping your mouth healthy.
For more information on Anoka Dental, the services we provide, and why we'll be great for your family, get in touch with us today! Call us at (763) 421-4002 to schedule an appointment.