Family Dentistry – What Is It?
General dentists make up the majority of oral health care providers. Around 80% of dentists are general dentists. Family dentists are general dentists who oversee the care of a wide age range of your family. General dentists might restrict their patients to a certain age gap. On the other hand, family dentists see patients as small as an infant and as old as a senior citizens.
Family dentists fall under the branch of dentistry known as Family Dentistry. In short, this branch deals with and provides treatment to patients of all ages.
Why Do You Need A Family Dentist?
Perhaps the biggest reason you need a family dentist is because of the convenience they provide. Since age is no bar with family dentists, your entire family can be taken care of at one establishment. Additionally, family dentists are exceptionally beneficial for little kids.
Family dentists negate the need of shuffling different members of your family from one office to another. Family dentistry also comes with plenty of other benefits – some of which you can read ahead.
What Are The Benefits Of Family Dentistry?
Visiting a family dental establishment has multiple advantages. Find some of the benefits of choosing a family dentist below –
Accessibility
Family dentists are pretty accessible because they see people of all ages. This not only makes getting proper dental care convenient but also very easy.
Whether it's your child that requires a dental checkup or a parent that needs dental supervision, you can bring them to Anoka Dental. All of their issues are sorted under one roof, making our establishment a "one-stop-shop" for everything dentistry.
Versatility
Being a family dental establishment, Anoka Dental offers various services, eliminating the need for you to hop from one specialist to another. We provide treatments for your infant, for you, and older people.
At Anoka Dental, you get everything from professional cleaning to tooth replacement.
Elimination Of Dental Anxiety
Since family dentists take on little kids as patients, they are well-versed in making them comfortable in a dental setting. Kids in particular have a lot of fear and anxiety when they're visiting a dentist. Due to their experience in handling young humans, family dentists are experts at alleviating the anxiety kids feel.
But it's not just the dentist who is great at taking care of little kids – the dental staff at a family dental establishment is also fantastic. From the moment the child enters the office till they exit, they ensure that the kid is at ease.
Familiarity
The great thing about visiting a family dentist is that you can continue seeing them as you grow older. Kids transitioning into adults won't have to switch oral healthcare specialists. This makes dental visits much easier because you're familiar with the dentist.
Preventive Care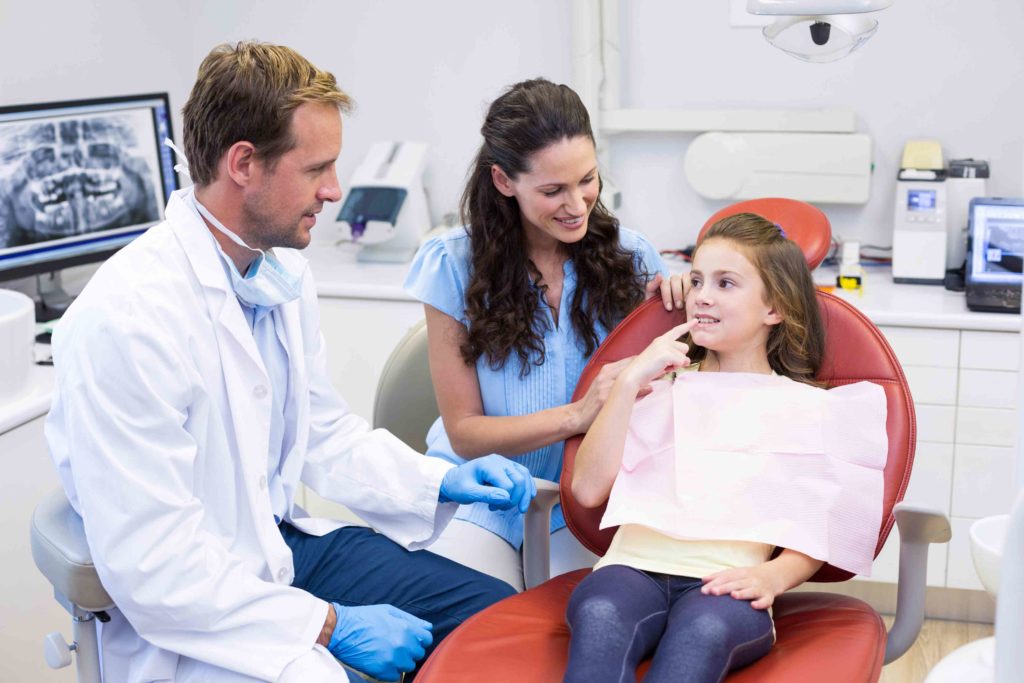 Since multiple members of the same family are visiting the same dentist, the latter is familiar with the family's dental history. This is important because the dentist knows what dental issues to look out for, particularly if they're hereditary.
Dental histories come in handy when it comes to providing preventative care. Whether it's cavities, orthodontic issues, or issues with the soft tissues of the oral cavity, family dentists are vigilant.
Consistency
When you've been visiting one dentist for a prolonged period, there is a level of trust that exists. You know you will always receive the same quality of dental care. Additionally, you can be open and honest with your dentist about your oral health issues. This results in timely and proper diagnosis and treatment.
Dental Education
One of the main responsibilities of a family dentist is to provide dental education. This means that they explain to their patients about taking care of their oral health – the hows and the whys. They also provide nutritional and behavioral counseling to little kids in particular.
When a child witnesses the entire family being spoken to about caring for their oral health, they pay attention. And because they are familiar with the dentist, they are more than likely to follow their advice.
How To Find A Family Dentist Near Me?
There are numerous ways to get in touch with a family dentist that is perfect for you and your loved ones.
Ask Around
Call up or get in touch with the people in your area – family, friends, neighbors, or coworkers. Ask them for recommendations based on their experiences with dental offices near you. People living in the same locality would have visited the dental establishments close to them. They could help provide some insight into the offices, helping you to decide.
Ask A Healthcare Professional
People working in the healthcare industry are pretty well connected. Furthermore, they are aware of the ins and outs of the various dental offices in your area. Your local general healthcare professional or the pharmacist might be able to redirect you to the good family dental offices in the vicinity.
Hop O#nto The ADA Website
The American Dental Association has a very handy tool called "Find A Dentist". Fill in the particulars asked and find multiple dentists almost immediately.
Contact Your Dental Societies
Local and state dental societies are listed in the telephone directory. Give them a call to find more information on the family dental establishments where you live.
Surf The Internet
A "dentist near me" search on the internet will showcase all the offices around you. Visit the official websites of these offices to read up on the patient testimonials. Nothing helps you decide if an office is good for you better than another person's experience.
People residing in Anoka, Coon Rapids, Dayton, Ramsey, and Chaplin needn't look any further – Anoka Dental is the family dental establishment for you.
Doctors Lee and Capp are the in-house experts at Anoka Dental. Their experience and expertise in everything dentistry make Anoka Dental the perfect place for anyone looking for a family dental office. Aside from our fantastic dentists, the staff at Anoka Dental is great with people of all ages, and kids in particular.
To book a consult with our experts, give us a call at (763) 421-4002.