Finding A Dentist Near Me
It might seem like an easy task to simply log onto the internet and search for a "dentist near me". However, how sure are you that the dental office that crops up is worth your time and money?
We're here to talk to you about all the things you need to look out for when dentist shopping.
Here are seven tips for you:
First
Find out how close or far the dental office is situated. Unless it's easy to get to, skip it. Because the further the office is from your home and place of work, the less likely you are to schedule a visit.
And if the goal is to prioritize your oral health, regular checkups are mandatory.
Second
Schedule an appointment with the dental office you're looking at and drop in for a visit.
How easy was it to pencil in a checkup? Were there extensive wait times? Did the office look neat, orderly, and put together? First impressions do matter. So unless the establishment is in tip-top shape, why even bother?
Third
How courteous is the staff at the establishment? Are they welcoming and do they keep your comfort a priority? How great are they with little children? What does the relationship between the dentist and their staff seem like?
Fourth
Are the dentist and staff in protective gear during you're appointment? Are they providing you with protective equipment? Does the setup appear clean and sanitized?
Fifth
Does the dentist prioritize talking about any procedures they recommend? Are they open to communication and answering any queries you might have – related to dentistry or their expertise? A quality dentist doesn't shy away from answering any questions that are put forward.
Sixth
What are the payment plans and insurance coverage like at the clinic? The prices shouldn't be so high that you're struggling to pay for any basic services that you require.
And in case of no insurance, does the dental clinic have their in-house plan that you can take advantage of?
Seventh
Note how you or other family members, especially the children, feel after the visit? Unless you're comfortable showing up to the same office, don't decide on it.
Establish relationship with your dentist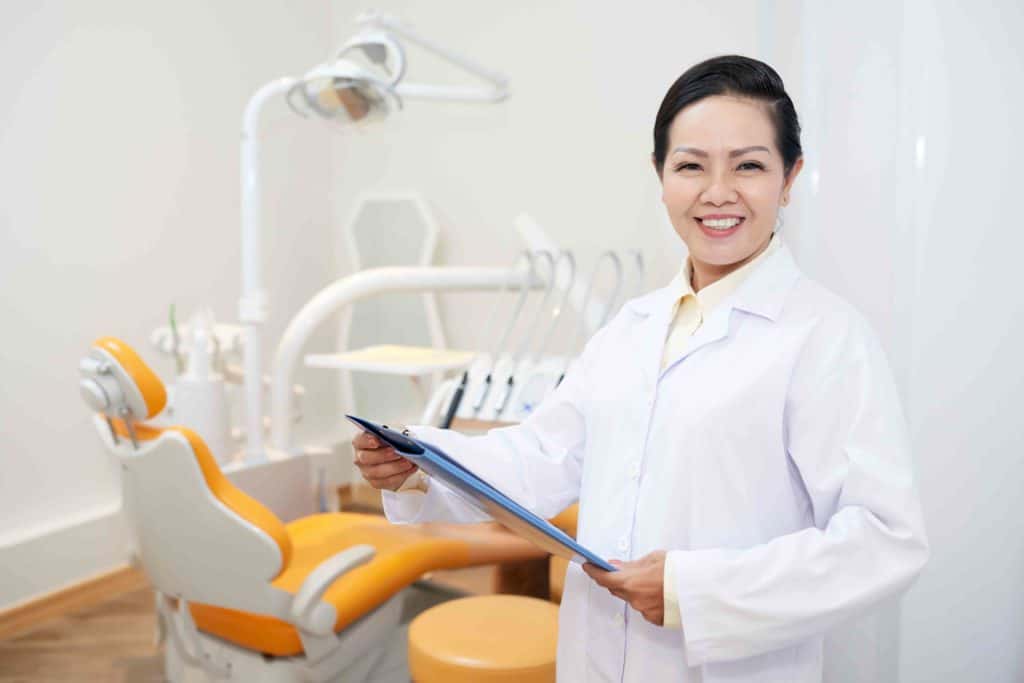 The relationship you will have with your dentist is expected to be pretty lengthy and extensive. It only makes sense that you choose a dentist with who you are a hundred percent comfortable.
The American Dental Association also suggests that you go "dentist-shopping", aka visit multiple dental offices before deciding on a dental office for you and your family.
How To Find A Good Dental Insurance Plan
Taking care of your oral health is as important as taking care of your overall body. And since dental procedures like dental implants are viewed as pretty costly, it only makes sense to have dental insurance.
Dental insurance plans offer coverage that makes most treatments affordable. Meaning patients don't have to compromise on their oral health.
Several factors need to be considered to find a dental insurance plan that best works for you.
Whether you're opting for insurance through your employer or on your own, the following steps provide a general guide on how to select one:
Step 1
Make a thorough generalized list of your or your family's dental needs. Include histories, current oral health status, and possible future requirements. This serves as a great benchmark to evaluate policies and predict overall costs.
Step 2
Understand the different kinds of dental insurance plans that are available. Each plan works differently in terms of benefits, deductibles, out-of-pocket costs, etc.
Step 3
Find out what plans are available in your locality. Get in touch with the dental insurance companies serving your region to assess the specific plans available.
Step 4
Know what procedures the insurance plan covers, the waiting period, and the annual limit.
Step 5
Dental insurance plans usually enroll contracted dentists. Find out whether your current dentist is covered by the plan you're thinking of getting. Out-of-network dentists usually translate into higher out-of-pocket expenses.
Step 6
To figure out which plan fits into your budget. Carve out some time to calculate the estimated yearly dental costs (based on your dental history). Also consider the premiums, co-payments, annual maximum, and deductibles (if any).
What Does Dental Insurance Cover?
Most dental insurance plans follow the 100-80-50 rule. That means that they fully cover (100%) preventive dentistry. Basic procedures are covered 80%, and any major procedures are at 50% (or with larger co-payment).
Preventive dental care includes regular check-ups, dental X-rays, and routine professional cleanings. The insurance plans cover most of these procedures. And you get two preventive visits per year.
Basic dental procedures include simple tooth extractions, fillings/cavity restorations, dental implants and deep professional cleaning. Around 80% of the cost is covered by insurance plans for these services.
All other dental treatments like root canal treatments, dental crowns, bridges, and dentures count as major services. Dental insurance covers only about 50% of the cost of such services.
Individual policies may not include periodontics and prosthodontics in the first year of coverage. And any orthodontic procedure requires additional fees.
Can You Have Two Dental Insurance Plans? Why or Why Not?
Dual dental covers a single person under two separate dental insurance plans. Such a situation typically arises when –
You either have two jobs with each providing dental benefits.
Your partner's dental plan also covers you.
While dual dental coverage may sound wonderful, it does not mean that you will receive twice the benefits. Based on the plan and where you reside, i.e. state laws, you may –
Receive benefits for a particular procedure up to the full amount.
Experience a lesser co-pay than you would if you had only one dental insurance plan.
Receive no additional benefit from the secondary insurance plan.
If Anoka Dental is the dental office showing up on your "dentist near me" search, please don't hesitate to get in touch with our dental team. Aside from various treatment procedures including dental implants, we also have our in-house dental plan that you can take advantage of.
Call us at (763) 421-4002 to schedule an appointment with a dentist at Anoka Dental today.